Healthcare practices are aware of medical billing outsourcing services that will strengthen their domain in many ways when employing an outsourcing medical billing service provider. It will not only free up your in-house employees but also they can dedicate more time in providing quality patient care and core productivity. Their expertise has been cultivated over the years from constant healthcare industry exposure ensuring error-free processing.
When you outsource your administrative or back office operations to a medical billing service provider, the process is always guaranteed to boost your healthcare business ROIs. Not only it gives you a financial gain but also ensures organized and efficient operations in medical billing. A direct result of this will be enhanced productivity, efficiency for your organization along with patient and employee satisfaction.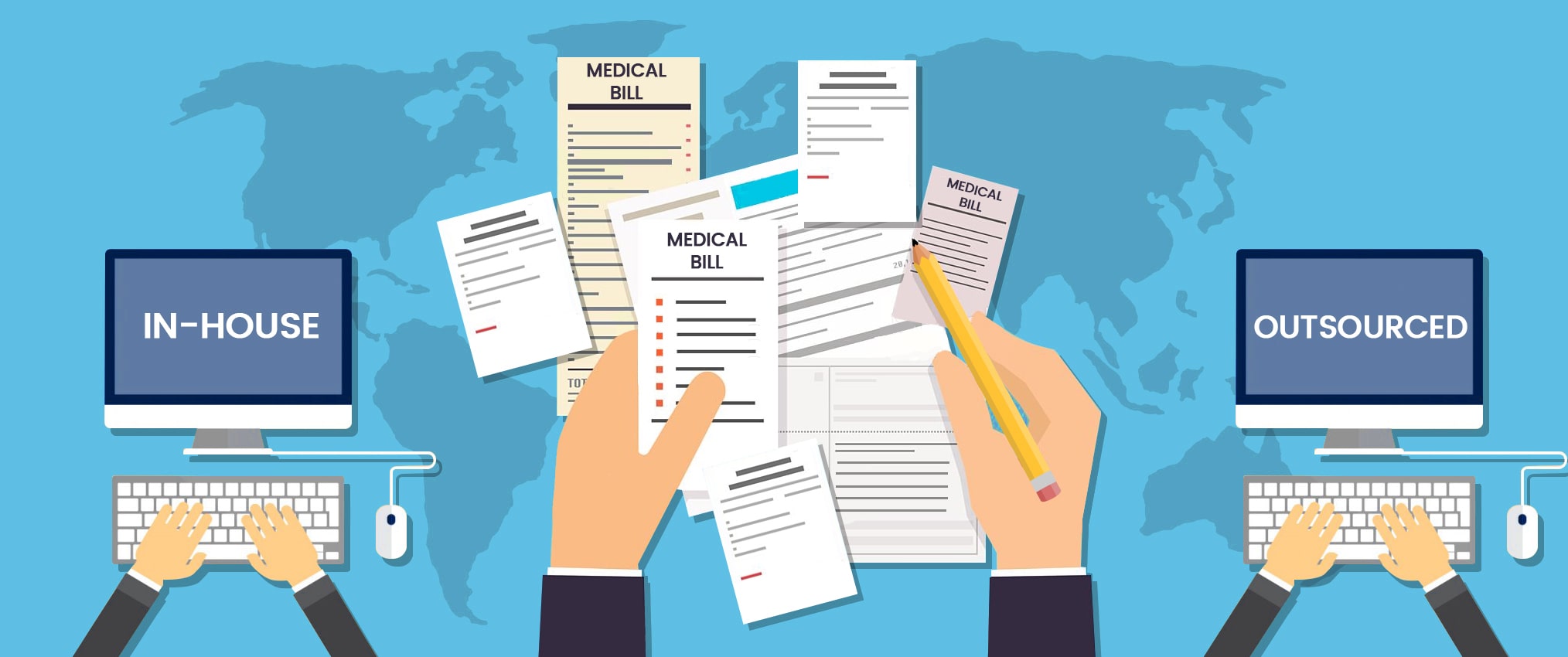 If your healthcare practice wants it entirety devoted to quality patient care, then think less and start outsourcing to a capable and reputed medical billing service provider who will ensure that you receive the desired results.
Here are the key reasons that you should be aware of which will help you decide on considering medical billing outsourcing services:
Faster TATs and Accuracy from Certified Experience
The outsourcing medical billing personnel are highly certified and up-to-date on all regulations and procedures in medical billing services. They have specializations in all the healthcare domains to meet your requirements based on your specifications at the quickest TATs and accuracy at reduced or zero-errors.
Organization and Efficiency
The outputs will be of the highest quality in medical billing outsourcing services with your data having a more organized nature for easy access and retrieval. Its efficiency reflects high standards, by streamlining your healthcare practice via. automated means in billing, payment tracking, revenue reporting, financial reports, etc.
Time-saving, increased Revenues and Customer Satisfaction
No matter what, medical billing service providers save your time significantly and it can result in an increase in your revenue as the processes are always delivered on time or way ahead of it. Your practice or business will have a boosted core competency as the outsourcing service provider takes care of your hectic data pile-ups.
24*7 or round the clock services, support is well offered by them in ethical ways. Time-zone advantage can be utilized as well with medical billing services from an offshore located outsourcing partner. Seamless process integration is done by medical billing service providers giving you peace of mind so that your practice is able to concentrate on quality patient care. Your outsourcing partner is also able to evaluate your business and financial status to provide you greater solutions in medical billing for smooth business progress as well. Quality patient care will always motivate your employees and increase their morale and will also satisfy your patients.
Most outsourcing companies try to maintain long-term client partnerships for either parties to prosper in business. The client can depend on their preferred partner for the services that suit them and the outsourcing service providers offer them in the exact requirements or specifications.
Personnel Expertise and Cost-benefits
The outsourcing company personnel are already expert in their medical billing domain as a result of years of experience and healthcare industry exposure. They will give you the outputs in the quickest possible time and highly cost-beneficial prices. The output quality will be top-notch and accurate with zero errors.
Compared to your in-house medical billing, an outsourcing service provider will excellently assist you to overcome the hassles in medical billing. A more organized and easily accessible data will be always available at your hand with stipulated timeframe fulfillment. Your business will have more productivity, efficiency, development, and progress with an accomplished outsourcing service provider.